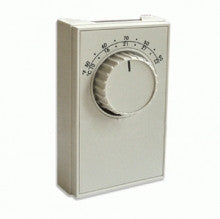 Line Voltage Thermostat
Suitable for direct connection with Tjernlund Duct Booster® duct fans and AireShare™ room-to-room transfer fans. Included with the thermostat package is a single gang plastic electrical box to allow for easy and safe installation.
Snap action switch operated by a bimetal actuator and is double pull, single throw. This thermostat allows Tjernlund units to be activated by either heating or cooling, but not both with the same thermostat. U.L. Approved. C.S.A. Certified. Elec. Rating: 22 Amps@ 125 V. Temperature Range: 50° to 90°. Retrofit box included.
---
We Also Recommend