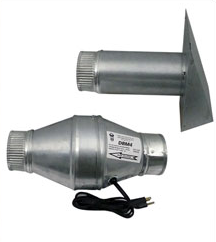 In-Forcer™ Fresh Air Intakes Model FAI4
The FAI4 Powered Air Intake provides a simple and economical way to provide fresh, outside air to dilute trapped pollutants and replace air vented by exhaust fans and fuel burning equipment.
Plug into a switched outlet, use a remote on/off switch or a plug-in timer to operate on a desired schedule. Standard 4" flex or metal duct may be used for ducting. The efficient 75 CFM fan consumes only 18 watts.
---
We Also Recommend